I like to keep the firmware running on all my devices up to date. New firmware is released to do to main things: fixing bugs and feature enhancing.
Today, I just found out that the modem/router provided by my ISP is running and out of date firmware. The installed firmware is NF18ACV.NC.AU-R6B016.EN released on 2018/05/14. There have been a few new versions of firmware released between then and now, with the latest version being: NC2-R6B021 released on 2020/11/26.
Here is the changes in the NC2-R6B021 firmware:
New Features:
Added hook and call status on the SIP page (TT 39464)
Enhancements:
Disabled Service in access control by default including SSH, Telnet, SNMP, Samba (TT 40589)
Cosmetic updates on the QoS Classification page (TT 40488, TT 40487, TT 40473)
Cosmetic update on Password page (TT 40417)
Cosmetic update on Wizard page (TT 40722)
Fixed a wizard issue where it would not s ave the VPI/VCI value if it was not 8/35 (TT 40158)
Cosmetic updates to the DHCP option page and SIP settings (TT 39344)
Enhanced the performance of t he web user interface
(TT 39434) Fixed an issue where applying changes remotely always shows a blank page (TT 39253)
Fixed an issue with Port forwarding rules not correctly showing their WAN interface (TT 39807)
Fixed an issue where Hide SSID on the 2.4GHz radio could not be turned off after it was turned on (TT 39684)
Updated the ETH WAN interface default settings to "No VLAN" and "Dynamic IP" (TT 41423)
Updated the VDSL interface default settings to "No VLAN" and "Dynamic IP" (TT 41422)
Fixed Guest Wi-Fi password issue when the password is less than 8 characters (TT 41149)
Added iperf3 support (TT 40154)
Enhance CPE security (TT 41415)
To begin upgrading the firmware, first I need to download this new version of firmware: NF18ACV-NC2-R6B021.zip (30.8MB).
Navigate to that file and unzip it.
❯ unzip NF18ACV-NC2-R6B021.zip 


Archive:  NF18ACV-NC2-R6B021.zip


  inflating: NF18ACV-NC2-R6B021/NF18ACV-NC2 Firmware Release Notes.pdf  


  inflating: NF18ACV-NC2-R6B021/NF18ACV-NC2-R6B021.EN_upgrade

Open the router's web console, usually it is the IP address of your (home network) router. In my case, it is http://192.168.1.1.
After logging in, click on Management -> Update Firmware.
Click on "Browse", select NF18ACV-NC2-R6B021.EN_upgrade, and click on the Update Firmware button.
After an approximate 15 seconds, I saw this information:
Uploading is in progress. The Broadband Router will reboot upon completion. This process will take about 2 minutes.
Here how the web console looks like with the new firmware: NF18ACV-NC2-R6B021.EN.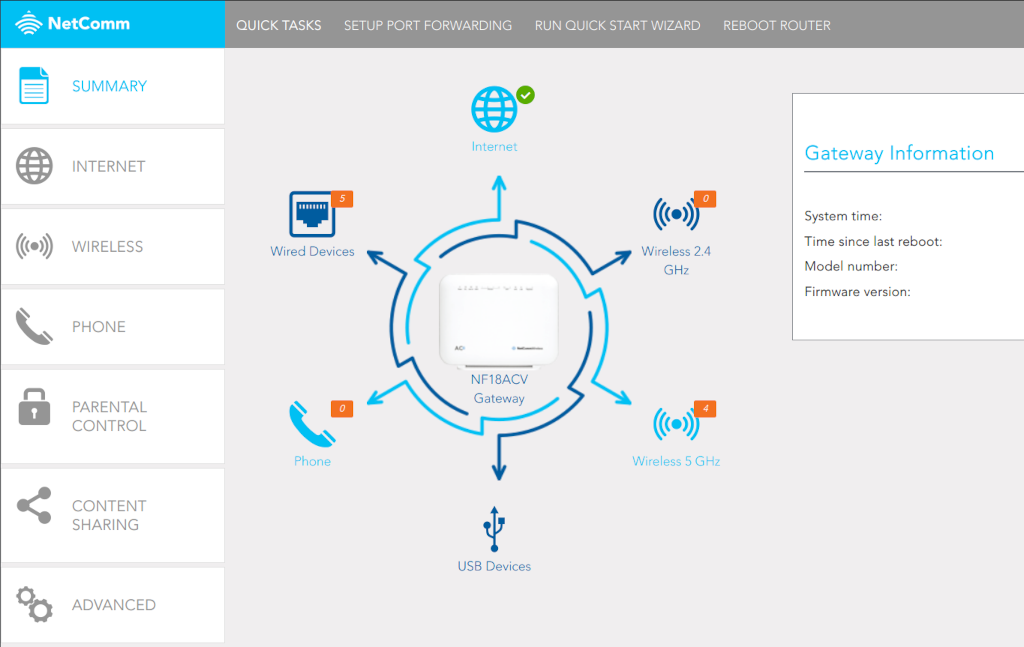 It looks like it was a successful firmware update. I didn't have to apply any new settings with this new firmware. However, I had to wait about 5 minutes for the modem to boot up and connect to the ISP.
Need less to say, updating the firmware on the modem/router may render your Internet unusable. I'm not suggesting that you should update your router at all. :-)
References: